STOP PRESS
There is just 1 place available at the moment on my monthly Poetry School course Poetry and Prose from October 2017. There is more focus on poetry than prose. Sessions take place in my house in North London,N14 near Southgate and Arnos Grove and is suitable for people who have been writing poetry for a while and are keen to develop their work. If you are interested please apply as soon as possible, while there is still a place, by sending as a word or docX attachment 3 poems or 3 pages of prose or a mixture of the two: myraRschneider@gmail.com.
Persephone in Finsbury Park, my new collection from Second Light Publications is now out. It is available £7.95 post free. Please email me: myraRschneider@gmail.com ">myraRschneider@gmail.com or Dilys Wood, editor of Second Light Publications.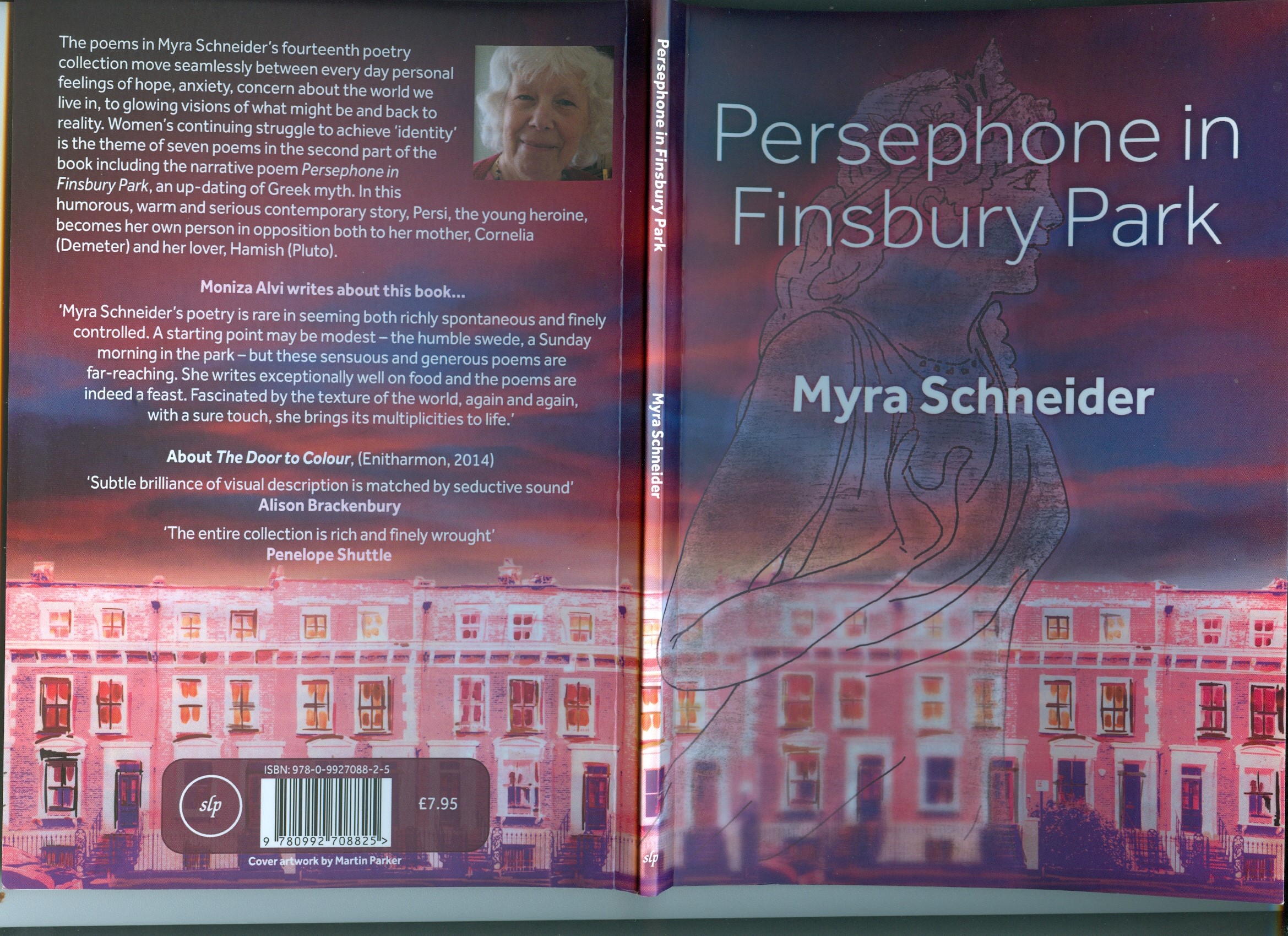 NEW NEWS ABOUT MY POEM GOULASH
My poem Goulash was recently featured on Anthony Wilson's famous Lifesaving poems. Key 'Anthony Wilson Lifesaving Poems Myra Schneider Goulash' and the post will come up. Like this:.
THE DOOR TO COLOUR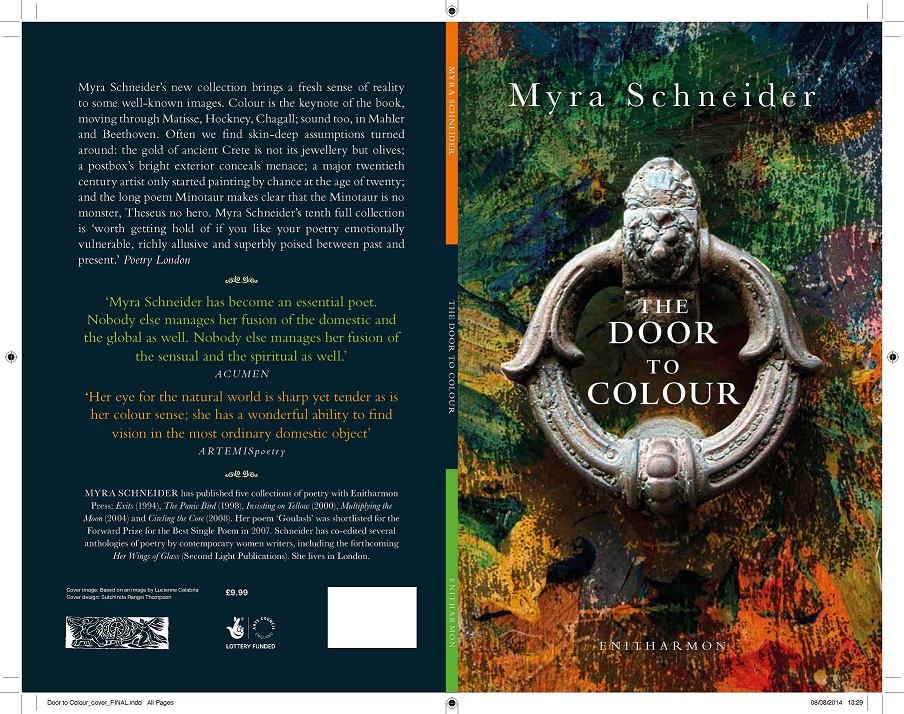 Here is the beginning of an in-depthreview of The Door to Colour which American poet and writer, Lance Lee has put on Amazon UK:
Metamorphoses: a review of Myra Schneider's The Door to Colour
This book is a cause for celebration, Myra Schneider's first full collection in six years, a sustained meditation first on color, and then on the self. The sheer energy and animation of the language is remarkable: "…Go into/the garden where dandelions pit themselves/against primroses…" she writes in "Garden", or "At last the rain has ceased so open/the back door and go down the steps", in "Garden", or "But when winter pelted me with rain and bullied me with winds" in "The Minotaur". Her sustained liveliness reminds me of Pasternak in My Sister - Life, as in "There pines toss, impregnating the air/with resin, and the garden/scatters its eyeglasses in the grass/where shadows read a book", taken at random from "The Mirror". Keats has the same animate lines in his odes: that animation is one of the hallmarks of great poetry. (You can read the rest of the review here)
http://www.amazon.co.uk/product-reviews/1907587519/ref=dp_db_cm_cr_acr_txt?ie=UTF8&showViewpoints=1
My poem, Goulash which was shortlisted for a Forward Prize (in Circling The Core) is now on you tube read by me. If you would like to listen to it please follow this link - hopefully you can make the click go straight to the video.
http://www.youtube.com/watch?v=gjCHGzMwNcE
It is now possible to view the interview I did with Maitreyabandhu in July at the wonderful Poetry East venue he has set up at the London Buddhist Centre in Bethnal Green. To see it just key 'Myra Schneider at Poetry East - You Tube' into google. The 40 minute interview begins with Maitreyabandhu asking me why I chose The Windhover by Gerard Manley Hopkins and Morning Song by Sylvia Plath, as two poems which had influenced me, to be read to the audience at the beginning of the evening's event. He then asks me about my life and the different areas of my poetry and writing. The sound recording is not perfect but it is quite possible to hear with the volume turned up.