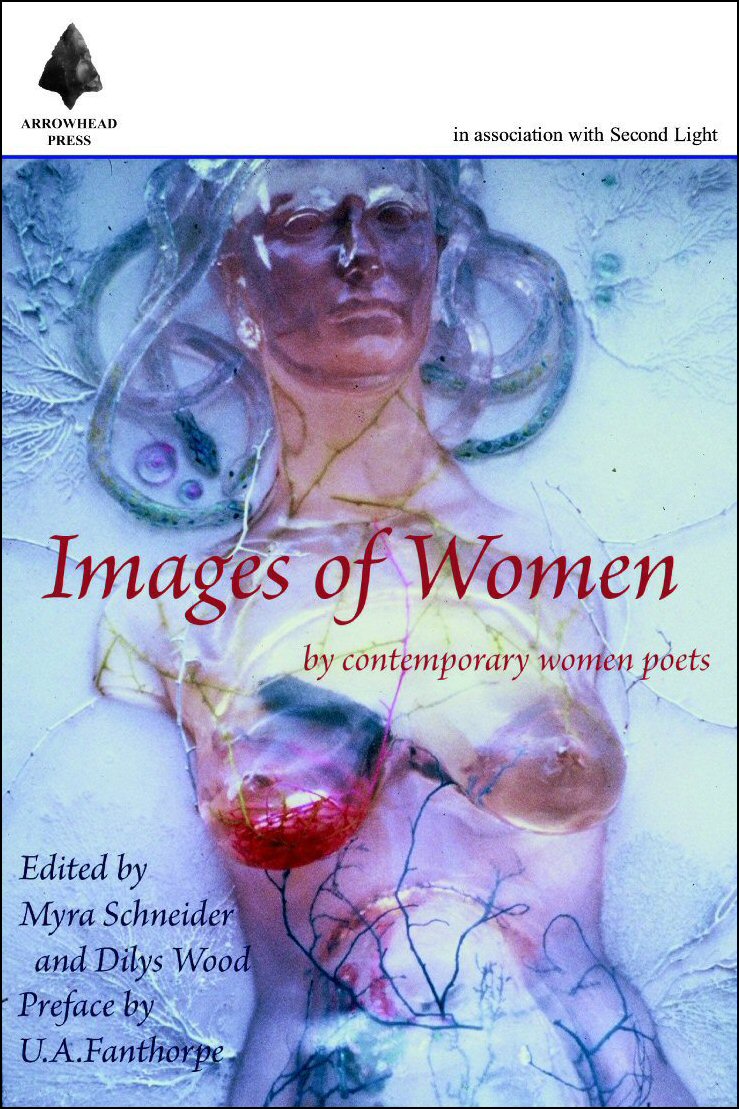 IMAGES OF WOMEN

Here is an extract from the editors' introduction:
We have aimed to reflect women's aspirations not only in the contents of the anthology but in the way we solicited material and let this shape the book. Through advertisements in poetry magazines and by other forms of outreach we invited women poets, including those in the Second Light Network, to submit as much work about women as they wished whether written by themselves or by other living poets writing in English. The response was enormous and we have read many moving, angry, tender, humorous and imaginative poems. The great strength of women's poetry now is its increasing diversity and ambition. In addition to the many personal poems we received a key focus was the social and political status of women.
Click here to obtain a printable a form containing a pre-publication offer.
MY MOTHER THREW KNIVES, the anthology of poetry twinned with Images of Women presents the work of up and coming poets. The book, edited by Wendy French, Maggie Sawkins and Dilys Wood has just been published. Its central London was launch was on 25th November 2006 at 5pm at the Artworkers' Guild, 6 Queen Square, London WC1. Both books will feature at the other launch events and at readings during 2007. Below are lists of contributors to each book.
LIST OF CONTRIBUTORS TO IMAGES OF WOMEN
| | |
| --- | --- |
| SHANTA ACHARYA | ANNA ADAMS |
| FLEUR ADCOCK | KIM ADDONIZIO |
| PATIENCE AGBABI | GILLIAN ALLNUTT |
| MONIZA ALVI | ANN ALEXANDER |
| ZEEBA ANSARI | R V BAILEY |
| DOROTHY BAIRD | JILL BAMBER |
| JUDITH BARRINGTON | ELIZABETH BARTLETT |
| ALICE BEER | DENISE BENNETT |
| ANNE BERESFORD | ELIZABETH BEWICK |
| ELIZABETH BIRCHALL | PATRICIA BISHOP |
| PAT BORTHWICK | JOANNA BOULTER |
| SARA BOYES | CHRISTINE BOUSFIELD |
| ALISON BRACKENBURY | JEAN 'BINTA' BREEZE |
| CAROLE BROMLEY | JACQUELINE BROWN |
| KAREN BUCKLEY | ELIZABETH BURNS |
| MAGGIE BUTT | CATHERINE BYRON |
| SALLY CARR | JULIA CASTERTON |
| LINDA CHASE | ALISON CHISHOLM |
| KATE CLANCHY | A C CLARKE |
| GILLIAN CLARKE | VALERIE CLARKE |
| ANNE CLUYSENAAR | GLADYS MARY COLES |
| MERLE COLLINS | JOAN CONDON |
| PAT CORINA | JILL DAWSON |
| LORNA DOWELL | ANN DRYSDALE |
| CAROL ANN DUFFY | BEATA DUNCAN |
| JANE DURAN | JUNE ENGLISH |
| RUTH FAINLIGHT | SYLVIA FAIRCLOUGH |
| UA FANTHORPE | VICKY FEAVER |
| ELAINE FEINSTEIN | GERRIE FELLOWES |
| JANET FISHER | ROSE FLINT |
| KATE FOLEY | LYNNE FOOT |
| LINDA FRANCE | BERTA FREISTADT |
| WENDY FRENCH | CYNTHIA FULLER |
| JACQUELINE GABBITAS | KATHERINE GALLAGHER |
| RHIAN GALLAGHER | DAPHNE GLOAG |
| REBECCA GOSS | ANNE GRIMES |
| CATHY GRINDROD | MARILYN HACKER |
| LUCY HAMILTON | JENNY HAMLETT |
| RITA ANN HIGGINS | SELIMA HILL |
| HELEN IVORY | MARIA JASTRZEBESKA |
| MARY JOHNSTON | VALERIE JOSEPHS |
| ALEX JOSEPHY | MARTHA KAPOS |
| JUDITH KAZANTZIS | JACKIE KAY |
| MIMI KHALVATI | STEVIE KRAYER |
| ANNE KIND | JANE KINNINMONT |
| ANGELA KIRBY | PAULINE KIRK |
| HELEN KITSON | KARIN KOLLER |
| LOTTE KRAMER | PHILIPPA LAWRENCE |
| THELMA LAYCOCK | JOANNE LIMBURG |
| DINAH LIVINGSTONE | HILARY LLEWELLYN-WILLIAMS |
| PATRICIA McCARTHY | KATE MACDONELL |
| SUE MACINTYRE | KATHLEEN McPHILEMY |
| MARY MACRAE | JEHANE MARKHAM |
| BARBARA MARSH | NANCY MATTSON |
| GERDA MAYER | PAULA MEEHAN |
| GERALDINE MESSENBIRD-SMITH | LYN MOIR |
| ESTHER MORGAN | CAROLINE NATZLER |
| JENNIE OSBORNE | MANDY PANNETT |
| MEG PEACOCKE | EVE PEARCE |
| JESSICA PENROSE | MARGARET PERRY |
| PASCALE PETIT | HELEN PIZZEY |
| PATRICIA POGSON | KATHERINE PORTEOUS |
| JOAN POULSON | CAROLINE PRICE |
| PAULINE PRIOR-PITT | ALISON PRYDE |
| LESLEY QUAYLE | SHAZEA QURASHI |
| ELIZABETH RAPP | LYNNE REES |
| MARILYN RICCI | SOPHIE RICHMOND |
| ELIZABETH ROWE | ANNE RYLAND |
| JACQUELINE SAPHRA | FIONA SAMPSON |
| MAUREEN SANGSTER | ANN SANSOM |
| CAROLE SATYAMURTI | MAGGIE SAWKINS |
| MYRA SCHNEIDER | |
| JILL SHARP | MARY SHEEPSHANKS |
| PENNY SHUTTLE | SUSAN SKINNER |
| NICOLA SLEE | JOAN JOBE SMITH |
| MARGARET SPEAK | JEAN SPRACKLAND |
| PAULINE STAINER | ANNE STEVENSON |
| PAMELA THOMPSON | ISOBEL THRILLING |
| HARRIET TORR | JILL TOWNSEND |
| SUSAN UTTING | FIONA RITCHIE WALKER |
| SARAH WARDLE | CATHERINE WHITTAKER |
| SUSAN WICKS | FRANCES WILSON |
| DILYS WOOD | LYNNE WYCHERLEY |
| TAMAR YOSELOFF | PAM ZINNEMANN-HOPE |
| SUE ROSE | MERRYN WILLIAMS |
LIST OF POETS WITH POEMS IN MY MOTHER THREW KNIVES
| | |
| --- | --- |
| PATRICIA ACE | JUDITH ALLNUTT |
| ELIZABETH ARGO | GAIL ASHTON |
| ANNA AVEBURY | DOROTHY BAIRD |
| TINA BASS | LIZ BASSETT |
| SALLY BLAKE | KAREN BUCKLEY |
| MANDY COE | TINA DAVIDSON |
| JUDITH DIMOND | LORNA DOWELL |
| EDNA EGLINGTON | CARRIE ETTER |
| JANICE FIXTER | NAOMI FOYLE |
| BECKY GETHIN | JANE GOETZEE |
| NICOLETTE GOLDING | CORA GREENHILL |
| KAREN GREEN | GABRIEL GRIFFIN |
| LYNNE HJELMGAARD | HAZELL HILLS |
| MOIRA HINTON | MARY HODGSON |
| LYNNE HOLLINGSWORTH | KAREN HOY |
| MAUREEN JIVANI | ANN KELLY |
| CHRIS KINSEY | ANN LEAHY |
| GILL LEARNER | SARA LEAVESLEY |
| PATRICIA LEWIS | PIPPA LITTLE |
| MARILYN LONGSTAFF | GOL McADAM |
| SHELLEY McALLISTER | GILL McEVOY |
| JANE McLAUGHLIN | ROSEMARY MACLEISH |
| NANCY MATTSON | KATHERINE MAY |
| HILDA MEERS | JENNY MORRIS |
| GILL NAPIER | MAGGIE NORTON |
| RUTH O'CALLAGHAN | LAURAINE PALMERI |
| MANDY PANNETT | GEORGINA PARKES |
| AMANDA PARKYN | JANINE PINION |
| JAN PORTER | LAURA ROBERTSON |
| SUE ROSE | JULIE-ANN ROWELL |
| SIBYL RUTH | FRANCES SACKETT |
| CELIA SAYWELL | DAPHNE SCHILLER |
| JENNIFER SEABRIGHT | JILL SHARP |
| SANDRA SHEPPARD | MARY SMITH |
| VALERIE SMITH | BRIGID SOMERSET |
| KATE STEER | ANNE STEWART |
| SUE VICKERMAN | JENNY VUGLAR |
| RIVER WOLTON | SANDRA WARNE |
| LYN WHITE | CATHERINE WHITTAKER |
| VICKY WILSON | |