Here is a link to an interview completed in January 2015 about Way through Cancer: http://www.mosaici.org.uk/?items=conversation-with-poet-myra-schneider-on-writing-my-way-through-cancer-2003
In January 2000 I was diagnosed with breast cancer. While I was waiting for a diagnosis, during the time I had a mastectomy, chemotherapy and radiotherapy and in the early stages of recovery from my treatment I kept a journal in which I dumped my feelings, used other kinds of raw writing, recorded my responses to events in my life and wrote notes for poems. I have always believed that writing is supportive but I was amazed at the way it carried me through my illness. Whenever I was writing, whatever I was writing I was ceased to be an ill person and became my whole self involved with words and the world. I have now fleshed out my journal into a book which also includes fourteen of the poems I wrote and a section of therapeutic writing ideas

This is what my publishers have written about my book:

Diagnosed with breast cancer in February 2000, poet and author Myra Schneider turned to her writing to help her come to terms with the experience. In this thoughtful and readable book, she illustrates how writing helped her through diagnosis, treatment and recovery as well as the change in self-image following her mastectomy.

In her frank expression of intense fear, anger and doubt, Myra Schneider includes notes and finished poems written during her period of recovery. She also offers practical support in the form of therapeutic writing suggestions for cancer sufferers, whether they are experienced authors or have never written before.

Bringing together an unsparing but ultimately uplifting first-hand account of life with cancer and advice about writing as therapy, this engaging and positive book shows the benefits of expressing the self through writing. It will provide inspiration and support to anyone affected by cancer and useful insight for professionals involved in the care of cancer patients.
Here is part of a journal entry written two days after the diagnosis:
I wish I wasn't putting such a strain on Erwin. I am afraid the breast cancer nurse, who is coming again tomorrow, will give me more information that will worry me. I have to hang onto the thought of friends and the relatives and friends of people I know who have survived for years and years after breast cancer. I owe it to myself to manage my panic and to make this a life experience not a death experience, to concentrate on possibilities, to grab every moment of life I can, to use what has happened for writing, to include the awfulnesses but also the plusses. I mustn't forget the moments of joy: the sun lying in swathes on the grass, the sharp clean cut of the air, the disc of the sun on water. I must keep the words that came into my head about the snowdrops I saw in a garden when we walked to the shops a couple of hours ago. I think it's the starting point of a poem.
The Snowdrops
Drops of life on this distressed afternoon. Everything grey - the concrete frontage with miserable sticks like bunches of deadness. The small white bell heads could be gathered together - could be layers pressed to my breast - could fill the space that will be left by my missing breast. These drops are not drops. The weak heads are not weak, not drooping, not dropping. They are hanging bells with thin rims of green on their delicate undersides. They have pushed through the lumpy earth and stand unmoved by the thrusting wind, the bites of cold air. They are stronger than cones of buddleia, than the can-can poppy - a brazen girl kicking. Very small, they bend but do not give way, they refuse winter, silently they remind me it can end.
And here is the poem which I wrote a few weeks later:
Snowdrops
As I stare at the small
white heads, their circular bed
set in a bald frontage,
the afternoon swells
with distress. I imagine picking,
imagine pressing layers
of green-rimmed petals
to my chest to cover
the emptiness which will shout
when I lose my left breast.
Though they look weak
beneath a bush's crude
black spread of branches
these are not drops, crystals,
bells that ring thinly,
not hangdog ninnies,
timid girls running out of breath.
They have heaved through
weighty clay lumps,
speared freezing air
to bloom without summer's prop -
are more daring
fiercer than the swimming
open-mouthed fear that wants
to devour me. They stand
uncowed by the north wind,
its sudden bluster, cruel bite.
And as I move on each flower
fills me like an annunciation.
And here is a poem which I wrote after all my treatment was finished.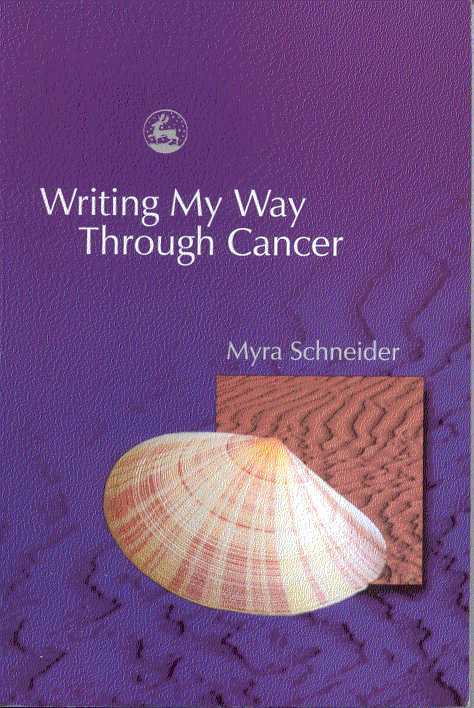 ISBN 1-84310-113-0
Jessica Kingsley Publishers
Price £14.95